The Best of Ethnic Food in Denver
Posted by Brian Kinkade on Wednesday, December 20, 2017 at 11:09 AM
By Brian Kinkade / December 20, 2017
Comment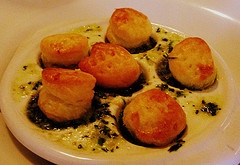 Finding unique cuisine can be a fun way to discover a new city and new restaurants. Sometimes you discover things you've never tried and you might just find a new favorite. Denver is full of great restaurants and here are some of the best ethnic choices in the city.
East Asia Garden
This restaurant is certainly off the grid and that's what makes it so special. The best cuisine often comes from restaurants known as "secrets" only the locals have discovered. East Asia Garden provides some of the best Chinese food in Denver.
Bistro Vendome
Found on Larimer Street, this French restaurant is known for incredible steak frites and cassoulet with rabbit sausage. They serve many interesting dishes and provide an excellent wine list to compliment some amazing entrees.
Uncle
Known as the best noodle house in the city, Uncle is a great place for something different. You can enjoy all types of noodle dishes from the obscure to the mainstream.
Thai Street Food
Thai food is very popular and provides a brilliantly unique option. If you want to enjoy pungent spices, excellent tom yum and many other great choices, Thai Street Food is the right place for you.
Phoenician Kabob
A Middle Eastern restaurant with plenty of great choices from hummus to falafel and more, this is a unique restaurant with flare. They use a gas-fired brick oven to create Neapolitan pizza and many other great dishes.
Other excellent ethnic choices to discover include:
India's Restaurant - Known for the best Indian food in the city.
Nile Ethiopian Restaurant
Karl's Deli - Providing awesome German cuisine.
Las Saltenas - The place for South American cuisine.
Pho Duy
Super Star Asian - Known for the best Dim Sum in the city.
If you're searching for unique food from all over the world, these are the best ethnic restaurants in Denver.